Enforcing a Judgment on Builders: A Case Study
By: Lorna Elliott LLB (hons), Barrister - Updated: 28 Nov 2012
|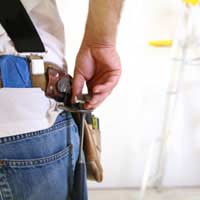 Mrs. Bennett decided that she wanted to build an extension onto the ground and first floors of her house to create another reception room and a garage in which to park her car underneath.
She found Joe Shifty in her local Yellow Pages and Joe visited her house, looked around, took some measurements and quoted £22,000 for the job.
Joe told Mrs. Bennett that she would need adequate planning permission for the job, and Mrs. Bennett told him that she had already applied to the council and received permission for the work.
She was very pleased with Joe's quotation and when he requested payment for half of the job in advance because he would be buying very expensive materials, Mrs. Bennett did not hesitate to agree and wrote him a cheque for £11,000.
What Went Wrong
Joe started work two weeks later, and although he brought a succession of different tradesmen with him, he sometimes didn't turn up until the afternoon and on several occasions failed to turn up at all. After a few days, Joe stopped answering her calls and disappeared altogether. Mrs. Bennett was distraught. Not only was her extension not built, but she had also lost a lot of money.
When Mrs. Bennett went to see her solicitor, she was advised that she could bring a claim against Joe Shifty in the county court. Joe Shifty did not lodge an acknowledgment of service, defence or counterclaim in response to the claim and as a result the solicitor put in an application for summary judgment, which is obtaining judgment from the court without the need to have a full hearing.
However, the judge considered that a full hearing was necessary, but Joe Shifty didn't attend the trial. The solicitor obtained judgment against Joe Shifty in his personal capacity and against his company.
Enforcing the Judgment
Mrs. Bennett was advised that the easiest method of enforcing the judgment was to instruct a high court enforcement officer to go to Joe Shifty's company address. However, it proved very difficult to find any of Joe Shifty's assets. A search at the land registry revealed that he didn't own any properties although if he had done Mrs. Bennett could have put a charging order on his property (regardless of whether he or his company owned it). If Joe Shifty took a director's salary from his company, she could also have deducted money from that salary by obtaining an attachment of earnings order from the court.
Insolvency Options
Unfortunately it transpired that Mrs. Bennett was not the only person to have fallen victim to Joe Shifty's antics and there were rumours that he had gone abroad to escape the backlash. Mrs. Bennett's solicitor advised her that she could wind up Joe Shifty's company and make him bankrupt. Although the fees and disbursements were costly, Mrs. Bennett decided that Joe Shifty should be punished for his actions to make sure that he couldn't take anyone else's money again. As a result, Joe Shifty's company was wound up and as he had been a personal guarantor of the debts of the company he too was made personally bankrupt. Despite these extreme efforts, Mrs. Bennett received very little of her money back.
You might also like...