Extended Warranties Explained
By: Lorna Elliott LLB (hons), Barrister - Updated: 27 Nov 2012
|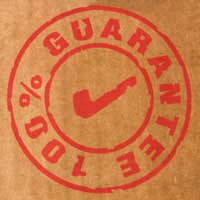 When we buy expensive or highly technical goods, they often come with a guarantee. There is sometimes the option to extend this guarantee for a further period, which is called a 'warranty'. So what is a warranty, and can you get a refund for purchasing an extended warranty?
Warranties are legally binding and provide an assurance to the consumer that any manufacturing faults that come to light during the period of the warranty will be rectified. Unlike guarantees, warranties usually cost money and cover certain eventualities such as cost of repairs, parts and accidental damage and in many ways are like an insurance policy.
So why do people buy extended warranties? Essentially it's peace of mind. It can be very useful to know that you are still covered if something is to go wrong with what may have been an expensive purchase.
Buying a warranty doesn't affect your statutory rights. This means that a supplier cannot exclude the provisions of the Sale of Goods Act, so if goods are of unsatisfactory quality or not fit for purpose for a period of six years after purchase, then this law still applies even after the expiry of the warranty.
Are Extended Warranties Worth It?
People have mixed opinions on extended warranties as although they provide reassurance at the time of the purchase, there can be problems with claims. The law already provides statutory rights to the consumer when you buy from a business, and some argue that with the law on your side, there is no real point in paying extra for something that you may be covered for under a) an insurance policy or b) existing consumer rights.
'Cashback' schemes refund your premium to you in full after the end of the warranty if you haven't made a claim. However, this is not an automatic rebate at the end of the period. You will have to remember to make the claim to obtain the refund. There can be quite a narrow window of time within which a claim for a refund will be valid, so it's up to you to be vigilant in respect of timekeeping and also to remember to retain the paperwork. Then again, if the company goes out of business in the meantime – you won't get any cashback at all.
Getting A Refund For An Extended Warranty
So how do you cancel an extended warranty and get a refund? If you buy an extended warranty for a domestic electrical appliance, there are certain rules that the suppliers must adhere to. For instance, the warranty must be seen to be optional as opposed to an integral part of the purchase.
Did you know that you don't have to buy the warranty from the store that sells you the appliance? In fact the seller, whether they advertise in-store, on a website or in a catalogue, has to tell you that you can get an extended warranty elsewhere.
Your Rights
If the warranty costs you an extra £20 including VAT on top of the price of the appliance, you are entitled to a written quotation of this and a period of 30 days in which you can decide whether or not to take up the offer or not.
If an extended warranty is for a period of over a year, you can cancel it up to 45 days after the day you took it out. If you haven't made a claim during that time, you will be entitled to a full refund. If after the 45 day period you want a refund, you will be entitled to get a pro rata refund even if you have made a claim under the warranty. Further, if your warranty cost over £20 including VAT, the supplier has to tell you about your cancellation rights in writing within 24 days of the purchase of your appliance.
WHERES MY REFUND IS FOR SALE.
This website is for sale [more info].
You might also like...