Getting a Refund from a Company That's in Liquidation
By: Lorna Elliott LLB (hons), Barrister - Updated: 18 Mar 2020
|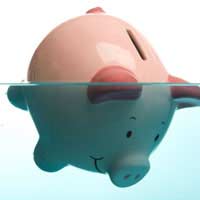 When a company falls victim to the credit crunch you will probably guess that something has gone wrong when the goods you have ordered don't arrive. Persistent telephone calls don't work, as members of staff are often not told about the fate of the company until it's too late.
Once the company has gone into liquidation you unfortunately have very little chance of getting your money refunded unless you made your purchase by credit card. This is because the ordinary consumer is classed as an 'unsecured creditor' which effectively means that you are at the back of the queue when to comes to clawing anything back from the company's remaining assets.
Even if you are lucky enough to get some compensation the process may take a very long time, and you might only get a very small proportion of the money you originally paid.
Similarly, if you pay money for a purchase made from a company in liquidation there won't be anyone to complain to or to pay compensation if something goes wrong with that item. If you bought an item from a reseller, concession or other non-supplier, take up a complaint with the manufacturer of the goods.
Paying With Credit
All is not lost if you pay with your credit (or store) card. If the full price of your purchase, whether for goods or services, is between £100 and £30,000, the credit card company will refund it. This is the case whether you pay for the whole purchase on your card, or even if you only paid a deposit on credit and the rest in cash (or debit card.) Before you get your hopes up, though, payments made on charge cards like AMEX and Diners Club or debit cards like Switch aren't covered; nor are purchases made by additional cardholders, or if you authorise someone else, e.g. a member of your family, to use your card for a purchase.
Paying With Visa Debit
Although this protection doesn't apply to debit cards, there is another option if you paid by Visa debit card. Visa has a procedure called 'Chargeback' that you can use if a company that owes you money has gone into liquidation. In order to claim, you must approach your bank within 120 days to complain that there has been a problem with the transaction.
Chargeback is a process by which your bank goes about claiming compensation from the supplier's bank, not the supplier. This has obvious benefits if the supplier has gone into liquidation. Be warned: Chargeback is Visa's internal policy, not a law, so it may be subject to change.
Protect Yourself During The Credit Crunch
The best advice during the credit crunch is to take precautions when making all sorts of purchases. This is particularly important when shopping online, as it's difficult to make a judgment on the reputation or reliability of a shop when all you see is a virtual storefront.
Price comparison sites can be useful in that they give the consumer more choice and show the differences in unit cost. However the company that's offering the goods more cheaply than anyone else might also be the one most at risk of going into liquidation.
If you can protect yourself by paying by credit card, remember that it is much better to pay the balance off at the end of each month to avoid accruing large sums in interest on the amount you owe. That way, even if the company falls victim to the credit crunch, the credit card company will refund your money.
WHERES MY REFUND IS FOR SALE.
This website is for sale [more info].
You might also like...
I paid for parking when it was free on a Sunday. The council will not refund because the there was a sign nearby. There was no staff to help at the time. Is it just tough luck? Where do over payment like these go?
We have to cancel our holiday flight due to my wife being diagnosed with cancer. Can we claim back the cost of the flight on my credit card?
Michael J Fewings
- 3-Mar-15 @ 12:28 PM