Refunds from Door to Door Sellers
By: Lorna Elliott LLB (hons), Barrister - Updated: 25 Jun 2014
|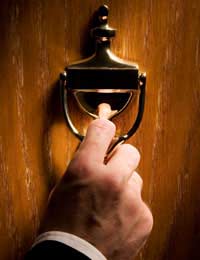 If you want to cancel a contract for goods or services that you agreed from your home, there are regulations in place to protect you. These regulations don't just cover doorstep sales, they also cover you when you buy something from your place of work, inside your home, at someone else's home, or if you buy something away from the seller's business premises on an excursion that they've arranged.
Most of the time the sellers are very good, honest and genuine, but commission-based sellers can be very persuasive. That's why there are special regulations in place that entitle you in certain circumstances to a 'cooling off period' when the purchase is above the value of £35.
Until very recently, if you contacted the seller yourself and invited them to your home, you did not have the right to cancel. The law has changed and regardless of whether you invited the trader or not, you have an automatic, stand-alone right to cancel. The only exception to this is if you sign a credit agreement, in which case you will have a five day period in which to cancel. If a trader does not tell you about the right to cancel, he is breaking the law.
If The Contract Has Already Started
However, if the contract is for a service and you consent to the service starting within the cooling off period (this has to be in writing) you will not be entitled to a full refund if you then decide to cancel. The test here is of reasonableness: you are required to pay for goods or services provided up to the point at which you cancel – but only an amount which is 'reasonably required.' Conversely, if you want the service to start before the 7 day period has expired, the trader is under no obligation to start unless you have provided your consent in writing.
If you haven't provided written agreement to receive goods or services within the 7 day period, but you still want to cancel, you are not required to pay for those goods or services. There are exceptions to this, though. If you have agreed to any of the following goods or services by consenting in writing, you will not be entitled to a refund:
Perishable goods
Personalised goods or goods made to your specification (e.g. fitted items)
Goods supplied in an emergency
Goods which have been consumed and therefore can't be returned
Goods or services relating to a funeral
Goods which have prices that fluctuate depending on financial market conditions
Goods that have been incorporated into something else that wasn't part of the contract
Advertising
Get A Refund
When you cancel the contract, do so in writing and retain a copy for your own records. Cancelling within the cooling off period means that the contract is essentially void. The seller will have to repay your money, including money that was paid as a deposit.
You will have to pay for the return of the goods to the trader and you also have to be 'reasonable' about looking after the goods while they are in your possession. However, you don't have to return the goods before you get your refund. If the trader doesn't provide you with your refund, report them to your local Trading Standards. You will find information about them on your local authority's website.
You might also like...
You cannot cancel the transaction from your barclaycard you have to cancel from the trader Barclaycard won't let me cancel the transaction which is a disappointment but that's the law I suppose
Pollygranit
- 25-Jun-14 @ 10:51 AM