Can I Return a Jacket to Buy a Cheaper One Elsewhere?
By: Lorna Elliott LLB (hons), Barrister - Updated: 29 Jan 2020
|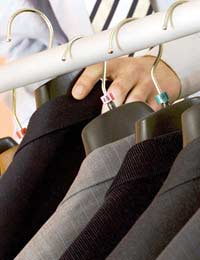 Q.
I bought my husband a tweed jacket from a major store at a cost of £260.00 before Christmas. I have now seen exactly the same jacket in a sale in another store at £130.00.
I have taken the label off the arm of the bought jacket and unstitched the pockets on the bought jacket which my husband wore briefly to try it on at xmas.
As money is hard to come by I would like to get my money back for the original jacket and buy the one from the different shop. I bought the jacket on my credit card. Can I do this?
(RK, 6 February 2009)

A.
It is always very frustrating when you buy something before Christmas, only to see that it has been vastly reduced in price a few weeks later! However the pertinent issue here is your reason for wanting to return the jacket. If you have simply changed your mind about a purchase, the shop is not required to do anything at all.
Sale of Goods Act
Under the Sale of Goods Act, you are entitled to expect your purchase to be as described, fit for its intended purpose and of reasonable quality. If your husband has worn the tweed jacket since Christmas with no complaints - save for the fact that you've found an identical item elsewhere at a much-reduced price – there is nothing wrong with the jacket so by law the shop can refuse to give you a refund.
Reasonable Time To Accept or Reject Goods
All consumers are entitled to a 'reasonable time' within which to accept or reject goods they have purchased. Unfortunately a 'reasonable time' is not specifically defined in the law and in any case will depend on the nature of those goods. To use two extreme examples, you would expect to reject a meal in a restaurant in a much shorter time than the reasonable time allowed to reject an item of electrical equipment, e.g. a radio. One issue that you may have if you return the jacket to the shop is explaining why you unstitched the pockets and took off the label, as this does imply that you had 'accepted' the jacket.
Returning the Jacket
Let's look at some theoretical scenarios: If you had bought the jacket, given it to your husband, and it had been too small you could have taken it back for that reason. Some shops have a Christmas gifts policy, which allows no-quibble refunds in the event that the recipient doesn't like, or wants to exchange, the gift. Given the time lapse since purchasing the jacket, and bearing in mind the fact that by removing the stitching from the pockets is a good sign that you had previously 'accepted' the goods, you might have a hard time convincing the shop that you are now rejecting the jacket. The shop may also say that taking the label from the arm and unpicking the pockets will mean it's not suitable for resale. However, if your husband had tried on the jacket but after wearing it for a few hours complained that it was incredibly itchy, for example, you might have a better chance of obtaining a refund (as the jacket would not be fit for purpose.)
You have mentioned that you purchased the jacket from a well-known store. It is worth checking their returns policy on their website, and then going to the shop, with your credit card, to see whether you can get a refund. Some stores are more flexible than others in wanting to appease disgruntled customers, but in my experience it certainly doesn't hurt to try. Be aware, however, that if you return the jacket simply because you've changed your mind (and intending to buy it at half price elsewhere would fall into this category) this is not a reason for a shop to refund your money. Good Luck!
You might also like...
In December we had our new (expensive) sofa delivered from a small, British company. The design is great but the fibre filling of the seat cushions (Quallofil) is not performing as we had hoped. I am so disappointed. After sitting on the sofa for just 45 minutes, the filling sinks so much that you can feel the frame under your bottom and it doesn't spring back (although the Quallofil website says that it does 'time after time'). I am only about 8 stone, so it is not a weight problem. We asked the company if something could be done (within one month of delivery, with photos) and were told that 'You requested Quallofil seat interiors for your sofa which is exactly what you have.' That is true. I 'vigorously plump' the cushions every day at least once but I think we will now have to buy some foam cushions from somewhere else. My cheap IKEA sofa was a lot more comfy. Is this new sofa 'fit for purpose'? Do we have grounds for complaint?
Saggy sofa - Sore bo
- 29-Jan-20 @ 2:18 PM