How to Get a Refund on Furniture and Furnishings
By: Lorna Elliott LLB (hons), Barrister - Updated: 29 Apr 2017
|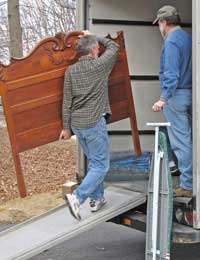 When you buy furniture, you're buying an investment for your home. You might see something in a show room and imagine it in your own house, and think it's perfect – but you'd be surprised at the number of people who don't measure furniture before they get it into their home, or fail to realise that their dream corner sofa won't go up the stairs.
Unfortunately, if you haven't measured something properly you have no right to a refund. Similarly, if you simply change your mind about an item, there are no automatic rights to a refund.
Your Rights
However, if you buy furniture as a consumer it must correspond to its description, be of sufficient quality and fit for its specific purpose. If one of these is lacking, tell the seller as soon as possible in order to ensure that you have a right to a refund. This may not be the case if you leave it for a long time.
As time passes it becomes harder to demonstrate that the fault was present when you bought the item. Alternatively the seller might want to offer to repair the item or to replace it. The repair must be satisfactory and completed in a reasonable amount of time – failing which you can ask for a replacement or a refund. Don't let the seller tell you that you must take issue with the manufacturer – the problem is for the seller to resolve.
There are several things to remember if you want a refund:
wear and tear is not a fault
accidental damage is not a fault but may be covered under an extended warranty
keep your proof of purchase
be firm that you want a refund and back it up with reasons.
Furniture Fittings
What if you buy furniture that is perfectly acceptable but is then installed in your home and fitted badly? If the fitting service was sold to you as part of the purchase, make a claim against the seller. If not, take the matter up with the company or person who fitted the furniture into your home.
If you ordered furniture from a catalogue, online, by phone, email or fax, under the distance selling regulations, you have seven working days to cancel. You don't have to provide any reason for this cancellation. However, if the order is for something fitted or bespoke – such as blinds or curtains, for example – you have no such right to cancel.
Second Hand Furniture And Ex-Display Models
If you buy second hand furniture, you still have the right to expect that it is as described, fit for purpose and of sufficient quality – but this is relative to the age and price of the item. For example, if you buy an ex-display model sofa, you would expect it to be cheaper but also less pristine than one that has come directly from the factory. However, you have less rights if you buy from a private seller – and are only entitled to purchase something that is 'as described.'
If you are not satisfied with the response you have had after informing the trader of the problem with the furniture, the Furniture Ombudsman operates a dispute resolution service. The best advice is to take a tape measure, keep your proof of purchase, inspect the item thoroughly when you receive it, and report any problems without delay.
You might also like...
We orderedasuitfromfurniturestore In AugustItwas deliveredinNovemberthe Sofa backdidn'tmatch.we reported it to thedeliverymen beforetheyleft.theshop sent a man to inspectit he couldn't put IT right the store said they would send us a new one in Aprilwe haven'theard from the shopandAprilend on Sunday.in themean time one of the chairhasafaultso we are not happy abouthaving a replacementhowdo we standcan we return the one we have and get our moneyback
Wally
- 29-Apr-17 @ 4:27 PM
I bought a coffee table which was delivered but not assembled (later found out we paid for assembly) me and my partner assembled it and within minutes it had fallen down and staples holding it together had come away! I've asked for a refund as I'm not happy to have my daughters safety at risk even with a replacement only to be told we have over tightened the screws therfore can't have a refund! What are my rights?
Jodie
- 16-Sep-16 @ 4:00 PM