Faulty Goods Replaced: Do I Get a New Warranty?
By: Lorna Elliott LLB (hons), Barrister - Updated: 17 Feb 2021
|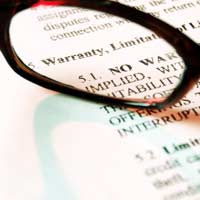 When you purchase goods, you are sometimes given a guarantee or warranty which accompanies the purchase. Generally, guarantees are free whereas warranties are not. On other occasions you may need to pay extra to have an extended warranty, sometimes known as a service agreement, which must be advertised as a separate cost alongside the purchase price of the item. All guarantees and warranties have terms and conditions attached to them so in the event of a problem, this document should be your first port of call.
When Things Go Wrong
Guarantees and warranties can offer extra protection to consumers over and above their existing statutory rights. This may be advantageous if, for instance, your consumer rights no longer apply to the transaction. Similarly, if the shop or company from which you bought the item is no longer in business or is refusing to help you can still claim on the warranty, which can be very useful. However, if you are considering taking out an extended warranty or service agreement, it is always wise to check what it is you are actually covered for. If the warranty is not underwritten by an insurance company, you may not be able to claim if the manufacturer subsequently goes out of business.
Replacement Goods
Uncertainty sometimes arises when a product is replaced under a warranty. This does not mean that you receive a new warranty when you receive a replacement. In essence the contract that you make at the time of sale, which includes the warranty, is formed at the time when you paid the money. Issuing a replacement is something that occurs under the original agreement. It does not mean that you receive a new warranty. Therefore, it is important to be aware that your original warranty will expire on the original purchase, rather than the clock being re-set on the warranty at the time when your item is replaced.
Refunds for Warranties
It is possible to get a refund on a warranty but you must contact the retailer within 45 days of the purchase of the item. If you do so within this timescale you will be refunded the cost of your warranty as long as you have not made a claim under it. There is no way around this right to refund and traders must comply – it's the law. If you have had to make a claim under your warranty, it is still possible to claim a partial refund. This will be calculated on a pro-rata basis up until the time when the service agreement ends.
Guarantees and the Law
If your free guarantee for goods was issued on or after 31st March 2003 it is legally binding. This means that you will have extra rights against the seller in addition to those required by law. However, in order to prove that you have such a guarantee it is necessary to prove that the guarantee was issued to you as part of your contract with the supplier, i.e. it is clearly set out as part of the terms and conditions of sale. Always check the terms of your guarantee, warranty or service agreement so that you know what you can, and can't , claim for in the event of a problem.
You might also like...
Bought a front door in 2016 with 10 year guarantee it failed in 2019 and was replaced free of charge. The new one has failed again in 2021 and will be replaced free of charge My guarantee on this brand new door only has 5 years left now and there is clearly a design/manufacturing issue for them to keep failing. I expect another replacement in 2024/5 at this rate and will then have no guarantee on this faulting door.
Spence
- 17-Feb-21 @ 6:04 PM
I purchased a car fridge in November 2019 (12 month warranty). It failed to operate early December 2020. Supplier has kindly replaced it with a new unit and initially I was happy with that. But, in light of every similar replacement of other items experienced over many years, I expected a fresh 12 month warranty to apply to the new unit. According to your advices that rule no longer applies. In the application of the law I don't believe that to be either just or correct. I could have taken a cash refund for the original fridge instead of accepting the replacement unit and then purchased the replacement which would then have been covered by a new warranty. Where is the legal logic in this situation? I believe the long-standing status of a new warranty applyingto the replacement unit should be maintained.
Bill
- 17-Dec-20 @ 11:21 AM
On 10/25/19 My husband bought me microwave on clearance at Walmart. It was suppose to be a Christmas present, but my old one finally quit so he brought my new one out. Needless to say it didn't work. It came on, but never heated up anything. I did exchange it for the same model on 11/04/19. This one also doesn't work. Except it's the opposite. You can't get it to turn on at all. The only thing it allows youto do is set the time. I called the company both times and both times I was told to return it for another one. My question is do I have to get the same model of microwave or can I get a different model. Any help would greatly be appreciated.
Angie
- 6-Nov-19 @ 3:08 AM