Bank Charge & Credit Card Charges
By: Lorna Elliott LLB (hons), Barrister - Updated: 11 May 2018
|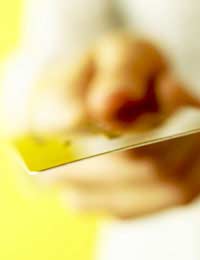 Credit Agreements
When we buy something on credit, we are normally signing up to an agreement that is regulated by the Consumer Credit Act 1974. Payments are made by instalments and there are charges and interest added to these repayments, which makes the APR or Annual Percentage Rate. The APR is calculated by adding the cost of the credit together to show the annual price of taking out the loan. Broadly this constitutes the interest and any other charges.
Although most people think of credit agreements as credit cards, they also cover numerous other situations in which you pay by instalments. The following are common examples:
finance to purchase a car,
white and brown goods,
secured and unsecured loans and
payment protection insurance.
Payment Protection Insurance is a form of insurance that will cover your credit payments in the event that you are no longer able to meet them – for example if you fall ill, or if you lose your job.
Credit agreements which are made under the Consumer Credit Act 1974 have to include numerous pieces of information: the length of the agreement, the amount being borrowed, charges, when and how much the repayments are and how to cancel the agreement.
The Office of Fair Trading issue credit licences to those wishing to sell goods and services under credit agreements and issues guidance about the relationship between consumers and lenders. The new Consumer Credit Act in 2006 amended the 1974 law, and now allows borrowers to challenge agreements which they consider to be unfair.
Credit Agreements - How The Law Has Changed
Although this doesn't affect agreements made since the law came into force, lenders cannot retrospectively change their agreements with borrowers that were arranged before the amendment to the law. What that means in practice is that borrowers can, in certain circumstances, challenge these agreements. If they are found to be unfair, the debt will be invalid and 'wiped off' without it affecting your credit score.
A solicitor examines the credit agreement and decides whether or not it might be unfair, as well as considering whether its validity and enforceability may be successfully challenged. In some instances, lenders may also pay back all the interest that the borrower paid under the agreement.
There are numerous companies that now offer this service, but there are charges involved. It should be stressed that this is not an overnight process, and successful claims can take six months or more to complete. Usually, however, it is free to see whether or not you would qualify to make a claim.
Bank Charge Refunds
When banks charge money for things, the Unfair Terms in Consumer Contract Regulations state that those charges are not allowed to exceed the cost to them. At the present time the Office of Fair Trading is running a test case involving eight major high street banks in relation to whether or not bank charges are unfair.
During this time, there is a 'stay' on other cases. There are numerous companies that will offer to take up your claim and in a few cases you may even be entitled to a payout during the 'stay'. However, as there is a six year limitation period, it is probably still worth submitting a claim sooner rather than later – to maximise the amount you can claim (there is a six year limitation period.)
One thing to bear in mind if you do decide to pursue a claim against a bank or other lender is that they might not be particularly happy with you if you are successful!
You might also like...
I've recently had a refund to my credit card for a returned purchase when my card had a zero balance. This resulted in a negative balance on my card of nearly £2,000. My bank has charged me a fee to return this money to me, is this allowed? It wasn't explained to me that this would be the case, and I can't see anything in there T&Cs that explains this will be treated as either a balance transfer or a cash withdrawal. If this is allowed, I still feel they have not been clear in their T&Cs.
Tigg
- 11-May-18 @ 3:04 PM
I bought goods on line with my credit card in october. For reasons I had no control over I have not received the goods. can you tell me if it is possible to get a refund from my bank on my credit card for the goods I purchased and have not received.thank youi
trouble
- 17-Jan-13 @ 7:51 PM