Car Purchases and Refunds
By: Lorna Elliott LLB (hons), Barrister - Updated: 21 Sep 2016
|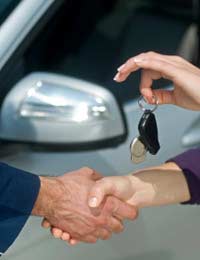 The most important distinction in terms of car purchases is between private sales on the one hand and trade sales on the other. Buying from a dealer gives you more legal protection and gives you a much better chance of obtaining a refund. Although it may be cheaper to buy a car from a private seller, the only protection you have is that the car should be 'as described'.
If you are unhappy with your purchase, you may have significant difficulty in getting a refund for several reasons; if you had the opportunity to inspect the car before you bought it, whether or not you actually exercised that right, you will have real difficulty claiming that the car was not as described. Not only that, you may not be able to track down the seller. That's why HPI checks are so important when you buy from a private seller, as they reveal whether the car is stolen or if there is outstanding finance on it.
Due to the much more limited rights a consumer has when they buy a car from an individual, as opposed to a dealer, dealers often pose as individuals in order to offload their problematic or defective cars. Be vigilant when buying from a seller – if you find out they're actually a trader you will still be entitled to the protection of the law.
Aside from these two distinctions there are many different ways to buy a car and it is important to know what you can do in the event of a problem. If something goes wrong with a new car and it is still under warranty you should contact a senior representative at the dealership where you bought the car to inform them of the issue. If they are unable to resolve the difficulty you should approach the manufacturer directly.
Dealership Refunds
When you buy from a dealership, you have the right to expect that the car you purchase is of satisfactory quality. If this is not the case you can 'reject' the car providing you do so within a reasonable period of time; or you can ask the dealer to repair or replace the car as long as it is not impossible or disproportionate in the circumstances. If none of these options are available, you can ask for compensation (i.e. money off the price) or for a refund.
Internet Sale Refunds
If you buy a car over the Internet from a business, this purchase will be covered by the Distance Selling Regulations. In effect, this means that you can enter into a contract to buy a car but have an automatic right to cancel as long as you do so within 7 working days. The car must only be used 'reasonably' within that period, or you will not be entitled to a full refund. However, if you buy a car from a person over the Internet, you only have the same rights as if you bought from a private seller in person.
Auctions
A car auction may enable you to pick up a bargain, but it is very important to check the small print or any legal disclaimers as you will have no recourse for a defective car that is "sold as seen". If you do not know much about cars, it's best to go to the auction with someone who knows what to look for.
Problems with cars are the most frequently reported consumer issues in the UK. It is therefore very important that you are diligent about researching the car, and try to protect yourself as much as possible before you part with your money.
You might also like...
I purchased a diesel 2013 VW Polo just over two weeks ago from the Car Shop. I explained to the sales man that I do not do a lot of mileage and that my previous car had only done roughly 4,500 miles annually andI will only use for city driving.The DPF filter light has come on already butwent off after a 20 minute 50mph drive.I have now been advised that diesels are not good for low mileage and city drivingDo I have the right to insist on a refund or exchange due to not being fit for purpose?
Tantan
- 21-Sep-16 @ 5:38 PM