Clothes, Shoes and Accessories Refunds
By: Lorna Elliott LLB (hons), Barrister - Updated: 3 Jan 2015
|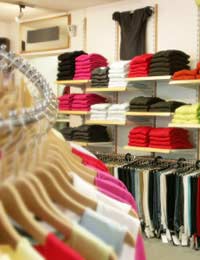 If you buy clothes, shoes or accessories it's worth remembering that shops are under no obligation to give you a refund if you simply change your mind.
If you purchase sale items and then decide you want a refund, there is a common misconception that sale items are un-refundable. This is not necessarily true, but it depends on the reason why you want to a refund on the purchase. If you go back to the shop with your item quickly, because the item is faulty, not as described, or not fit for purpose, then you should get your money back.
If you buy, for example, a faulty handbag or a pair of shoes from a concession, don't let the seller tell you that you have to approach the manufacturer directly. This is not the case. You should take the item back to the place where you bought it.
If you buy an item from an individual the seller only has to make sure that it is sold 'as described.' For example, if you were to buy a pair of shoes on Ebay, you would be entitled to know whether they were scratched or damaged in any way.
Do You Have To Accept A Credit Note?
No, you don't. Be careful with credit notes because sometimes they have expiry dates or limits on the ways in which they can be used, for example you might not be able to buy sale items with them. If the shop says they only issue credit notes and refuse to give you a refund, but you have brought the goods back within time, or because they are not as described, not fit for purpose, or of satisfactory quality, they may in fact be breaking the law.
If you've bought something that's a one off; perhaps there were very few of these specific accessories in stock; or perhaps a pair of shoes or an item of clothing that the shop can't replace because they don't have in your size, the shop may offer you a credit note, or offer to replace it with something else that you like. If you don't want a credit note, a replacement, or something different, press for a refund.
Refunds For Sale Items And Seconds
If the clothes, shoes or accessories are seconds or sale items, the consumer has the same rights if the goods were new or perfect. Taking this into account, there is also the consideration of whether something is 'of satisfactory quality' so, for example, a top with defective stitching might be sold at a knockdown price because it's imperfect, and easily identifiable defects have to be taken into account.
If clothes have makeup or other imperfections on them, you should bring this to the attention of the seller before you buy as often they will give you a small price reduction on the advertised price. However, some sellers might simply tell you that "it'll wash out", in which case you should say "it might not". You will have better bargaining power if the clothes are dry clean only, especially if the item you are trying to buy is the last one in the shop.
Get A Refund
If you've accepted a credit note but you can't find anything else that you want to buy, the trader is not compelled to give you a refund instead. You can always ask, though, but don't expect one. If you want a replacement item, but there are none in stock or it's last season's stock, for example, the trader can offer you a repair of the item, a part-refund or a full refund.
You will often see notices or terms that state that you are not entitled to a refund "in the interests of hygiene." Often this is because these clothes and accessories, such as earrings, underwear or other intimate items cannot safely be resold if they are returned to them. A shop is entitled not to accept these types of goods in exchange for a refund unless they are faulty. The fault must be with the product, and not as a result of customer damage or misuse. If it is within six months of the purchase and the store cannot prove that the goods were not faulty at the time of purchase, you will be entitled to a replacement or a refund.
If all else fails and the retailer will not honour your rights, you can take them to the small claims court to get your money refunded. However, the best way to get a refund before having to resort to this final means of retrieval is by knowing your rights under the law.
You might also like...
a top and jeans were bought from river island. which were not liked price was £72 we don't have the receipt.taking them back to the shop the items are now on sale and they are only offering £40 credit note. are they aloud to do that.
grundig
- 3-Jan-15 @ 2:54 PM
@Upaheight - you should definitely be entitled to a refund, that's really bad practice and of course they must be able to give refunds (have a look online at their refund policy). It's a shame you accepted the gift card as it might be more difficult to change your mind now. It's worth approaching them again though.
Izzy
- 28-Nov-14 @ 12:55 PM
I purchased a hoodie from the jack wills site. I paid £49 plus £4 delivery The item arrived a few days later........no problem until I opened the packaging And the tag attached to the hoodie had a lower price on it which was £36. I rang the customer service line and asked if they would refund the difference on my card as the price was clearly incorrect what I paid. They said they don't issue refunds but I would receive a gift card for the difference in the post. Am I entitled to receive a refund as I paid on my card and I have the price difference in black and white? I accepted the gift card but I am really not happy about it all
Upaheight
- 27-Nov-14 @ 11:11 PM
I bought a blouse on 21 February 2014 from M&Co.It was discounted but no apparent damage.I have only worn and washed it twice (as per washing instructions on label).On ironing I have noticed two holes have appeared on the front of the blouse and the hem is coming unstitched and is fraying.I do not have the receipt anymore, only my credit card statement, but I purchased two blouses at the store.Can I complain to the store that the blouse is not fit for purpose and request a refund?
Wiggle
- 25-Mar-14 @ 10:24 AM
I've bought ugg boots from a site which claim to be 100% real on arrival they were not and also the wrong ones were delivered. How do I get my money back as the company disappeared and then re appeared with a slight change in web address. They only contact after cancelled payment at the bank however the bank have to issue the payment as it was purchased so now they won't reply to any emails.