All About Food Refunds
By: Lorna Elliott LLB (hons), Barrister - Updated: 26 Jul 2019
|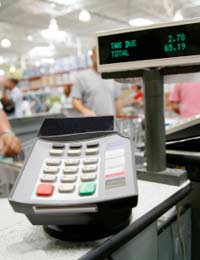 As a lot of foods are classed as 'perishable' items, they are not covered by some of the legislation that cover other goods and services. However the food you buy must still be fit for purpose, as described and of satisfactory quality. When you buy food at a market or supermarket, you have the opportunity to inspect it before you pay.
A market trader is very unlikely to give you your money back, and certainly is under no obligation to do so, unless you can prove that you were sold unsatisfactory goods (mouldy vegetables), or food that was not as described (lamb instead of beef) or food that was not fit for purpose (selling you cooking apples instead of edible apples.) At the supermarket, you similarly have an opportunity to choose goods and make an informed decision as to whether or not they are satisfactory.
Online Grocery Shopping
If you order your groceries or other foods online for delivery to your home, you will only be entitled to a refund if the supermarket sent you the wrong goods or if they are defective when they arrive. Supermarkets should provide you with a packing list at the time of delivery which details the goods that have been delivered. If there are any changes or substitutes to your intended order, this is the time to reject the goods and request a refund.
Some online stores send chilled produce by overnight carrier. If on inspecting the food you find that something is missing, it is not what you ordered, or the food is defective (for example, a jar has broken in transit, or a bottle is leaking) you should complain to the seller immediately. Due to the perishable nature of food if you delay even slightly, you could arguably be deemed to have 'accepted' the goods. It's worth checking the terms and conditions to see if there is a policy for returns and refunds.
Defective Foods
With some foods, it may be that the defect is not discovered until later. For example, you could discover a foreign object in a tin of beans, which you may not know about until several months after you made the initial purchase. In this situation there are usually instructions on the packaging or on the manufacturer's website which tells you what to do. Normally you are required to send the item back (if practical) with a short description of when and where you bought the item.
In response you will receive a letter which makes reference to quality control and offers you a voucher by way of an apology. This is usually worth several times the cost of the original faulty item and is intended as 'compensation'.
However, you can also report the manufacturer to trading standards who may also investigate on your behalf. In situations like this, consumers do not usually consider it proportionate to sue a manufacturer, unless they have been harmed. If the beans had contained a piece of grit and you broke your tooth on the grit when you ate the beans, you would have a claim against the manufacturer.
Simply finding a piece of grit that has caused you nothing more than repulsion woud not entitle you to 'damages' for 'personal injury.' This is because mere inconvenience is not really quantifiable, unless as part of a more serious case.
What about food that actually harms you? If food makes you ill the manufacturer of the product is liable. In these circumstances you would be entitled to make a personal injury claim against the manufacturer. You would claim not only for a refund but also losses, expenses and compensation for the injury caused to you.
You might also like...
I would like say and saw is a lot customer buy a food like snack, peanut, dried fruit and other thing. They buy & after open, they can't finish, left after more than 3 months to a year and try to get refund. Is that right way or we should have to refund to them ! Are they worsting the world & wasting the food ! Thing ...
Alan
- 26-Jul-19 @ 7:26 AM