Rail Refunds If Your Train is Delayed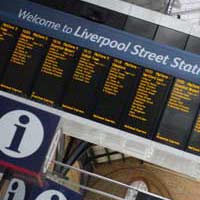 We have all been there, standing on the train platform when the dreaded announcements start carrying on about how sorry they are and how many minutes it may be delayed by in a pre-recorded message. You grin, bear it, and settle down for another sit on an increasingly chilly platform. Obviously, some delays are inevitable, indeed it is an incredible feat of organisation that for the majority of the time the trains do run on time. When they do go wrong they often go very, very wrong. It is very hard to be charitable when you have been on every mode of transport known to man, barring camel and hydrofoil, to get to your destination. Like any service you purchase however, there is redress and so long as you get the right forms together there is the potential for a refund either in full or in part.
"Please have your Tickets ready for inspection…."
When you purchase a ticket you are entering into an agreement with the train companies. This agreement is based on the National Rail Conditions of Carriage and governs the rights and responsibilities as a minimum that can be expected as between yourself and the train companies. If you have any more rights then this is something you will have to actively ask about at the point of sale, rights and responsibilities can be varied but there are some minimum standards.
Like most situations every case is individual, each persons' train journeys should, and are, treated separately and should be claimed for individually. At the time of writing the relevant part of the Conditions of Carriage are Part E and Part H and is available to download. Irrespective of the contents of Parts E and H you should read these conditions carefully before raising your expectations that you might be automatically entitled to a full refund as this may not be the case. In the instance that you have derived some benefit from the ticket, such as part of your journey ran to time, you might not receive a full refund. You should read the whole document should you be unsure or want to make yourself more aware of your rights.
Some train companies operate different standards as to when and how they will pay compensation should a train be late or disrupted, or, whether the train company can be held reliable for the disruption. The individual arrangements are not going to be explored in this article but the Conditions of Carriage represent the minimum standard to be expected. If you are in doubt that you have received good service, speak to the ticket office and see what they say.
"This Train Has Now Been Cancelled…"
The dreaded call has been made over the tannoy and you are now left on the platform awaiting alternative trains, or the aforementioned camel, to make an appearance so you can get to your destination. For the present there is not much you can do. Going to the ticket office to ask about whether or not you are going to get a refund won't be practical and may mean you miss important announcements. Instead, wait until your journey is completed make a note of what delays or problems there were and then make the relevant inquiries with the appropriate train company. They will have records about which trains were cancelled and when but writing them down for yourself will assist when making your claim, especially if it has been protracted. Remember to take a copy of your tickets, if they have to be sent in for proof, and any proof of purchase you have. If there are any other requirements that the train company want make sure they are included as well. There may be a time limit for making a claim so it is best to be organised.
Remember
If you are unsure about any of the Conditions of Carriage or any rights that you may or may not have, read the Conditions of Carriage for yourself and if you have any further queries go to your ticket office. They will be able to guide you to the specific rights that each train company may give you if you use their services. Phoning or asking about refunds will also assist, and the internet is a useful tool to look at different train companies and their practice and passenger rights. There may also be methods to submit your claim for a refund online and this may be an option to explore.
You might also like...