Getting a Refund for Public Transport
By: Lorna Elliott LLB (hons), Barrister - Updated: 22 Jun 2013
|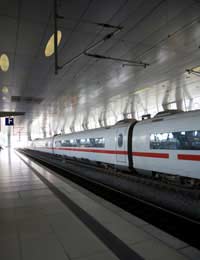 A substantial proportion of the population rely on pubic transport to take them to places; to get to work, visit relatives and go on holiday amongst many other reasons. Journeys are more often than not uneventful, but we rarely talk about them unless something goes wrong. However, when your journey is interrupted by a delay or cancellation, you may be able to obtain a refund for all or part of your journey.
Bus and Coach Journeys
Local bus services are usually fairly reliable due to the fact that journeys are short, services frequent and journeys paid in cash. If a bus or coach service is delayed, and has a knock on effect on other parts of your day, you may be able to claim compensation. For example, if you took a National Express coach on a four hour journey and the coach broke down, causing you to be delayed for two hours, this would be a situation in which you could request a refund.
Contact the transport company, or booking agent, to find out how to complain and what evidence you need to produce to support your claim. If your journey was relatively short and of low value, you may however decide that it is not worth the effort to push for a refund.
Train Journeys
Because trains are often subject to delays, passengers seem to accept this as normal and don't make claims for compensation or a refund. However, if you are excessively delayed, for example on a long journey, for an important business meeting, or suffer from a disability that means you may become distressed as a result of long waiting periods, you may be able to claim a refund and/or compensation. Severe delays, or cancellation of the service you had booked could mean you are late for, or miss, an event later on such as a concert or flight.
The best thing to do is visit the supplier's website to check how to make your complaint. For example, in London, you are entitled to a refund for a tube journey if you are delayed for more than 15 minutes, and can claim for an overground journey if you are more than 30 minutes late. If necessary explain, in as much detail as possible, what journey you took and the effect it had on your later plans. Enclose a copy of your ticket and receipts for any missed events. It is worth making a claim if, for example, you bought a first class ticket but had to stand for the entire journey, or if you were delayed but it only caused you minor inconvenience.
Flights
Travelling by air is often more time critical than other methods, and delays and cancellation can mean missed connections, holidays being cut short, meeting missed, and family occasions being disrupted. Although you can get refunds and compensation for delays that are outside your control, be very careful about the type of ticket you buy before you travel. If, for any reason, you have to change or amend your flight, or indeed cancel it, and have bought a cheaper ticket that does not allow for cancellations or amendments, you may lose out completely.
However, if the loss of the flight is neither your fault nor the airlines fault, for example, cancellation due to severe fog, the airline is not required to give you a refund but may do depending on the circumstances.
WHERES MY REFUND IS FOR SALE.
This website is for sale [more info].
You might also like...
SEEMINGLY A VERY INFORMATIVE AND WELL PUT TOGETHER STRAIGHT FORWARD WEBSITE! HOPEFULLY WILL RESOLVE MY ISSUE OF BEING MIS SOLD AN ALL SINGING DANCING POLICY WHICH NOW ONLY SEEMS TO SING FLAT AND HAVE TWO LEFT FEET! ZOBBIE
ZOBBIE
- 22-Jun-13 @ 1:06 PM