The Birthday Caterers from Hell: A Case Study
By: Lorna Elliott LLB (hons), Barrister - Updated: 27 Nov 2012
|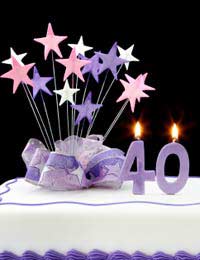 Vanessa was really looking forward to her 40th birthday party. She had booked the village hall and a DJ for the disco, bought a lot of drinks from the cash and carry and sent out invitations to over a hundred friends and family.
She had also hired a catering company to prepare and serve a buffet meal during the early part of the evening, to serve drinks and to make a large two-tier birthday cake, which was also be served during the party.
The Party
Vanessa arrived at the village hall at 6.30pm to meet the caterers and the DJ. The guests were due to arrive at 8pm. By 7.30pm the caterers still hadn't arrived, and Vanessa was going frantic. No one was answering the mobile phone number she had been given and when the first guests arrived at about 7.50pm, she was unable to give them drinks as she was waiting for the glasses to arrive. Vanessa's husband went home to get some glasses and plastic cups so that the guests could at least have some drinks.
The caterers finally turned up at 8.10pm. When Vanessa asked them why they were late they said that they were told to arrive at 8pm and not 6.30pm. They were rude to Vanessa, who in turn was very angry with them. Eventually they set up the food, drinks and cake. They began to serve drinks to the guests, but Vanessa told them that they should get on with serving food.
The food was poorly cooked, made with cheap ingredients and in some instances tasted stale. Vanessa decided not to make a scene because she still wanted to try to enjoy the evening. However, the birthday cake they supplied was beautifully decorated and tasted delicious.
Vanessa's Complaint
After the party, Vanessa was very upset and to make matters worse, three of the guests suffered very badly with food poisoning. Each claimed that it was the salmon fillet that made them unwell. For Vanessa, this was the final straw. She telephoned the caterers, told them about the problems and demanded a meeting with them.
The owner of the catering company was shocked and agreed to have a meeting with Vanessa, who explained the catalogue of disasters that destroyed her birthday party.
The catering manager denied that they were supposed to arrive at 6.30pm and blamed the guests' illness on having drunk too much at the party. The manager also said that the staff had complained that Vanessa had sworn repeatedly at them, although Vanessa refuted this and said that the staff were rude to a number of her guests.
How She Got A Refund
When Vanessa demanded a full refund the caterer laughed and said that it was out of the question, especially since it had been obvious that Vanessa had been happy with the cake. However, Vanessa refused to take no for an answer and said, "You have not acted reasonably in the way you supplied your service to me, you poisoned my guests, two of whom incidentally have seen their doctors about their illness, so we'll have that evidence to prove you're wrong about the salmon. I agree, I had no issue with the cake, but everything else was a disaster. If we can't settle this today, I will have to consult a solicitor."
From then on the caterer was more open to negotiation and immediately offered a 20% discount. The caterer desperately wanted to keep the cost of the staff's wages. However, Vanessa persisted and the two eventually settled on a full refund, and the cost of the cake was waived by way of 'compensation.'
Wheres My Refund is sponsored by Purely Energy, who have funded a lot of our content. If you are looking for a low cost business energy supplier, take a look at their website.
WHERES MY REFUND IS FOR SALE.
This website is for sale [more info].
You might also like...