Enforcing a Court Order
By: Lorna Elliott LLB (hons), Barrister - Updated: 13 Sep 2010
|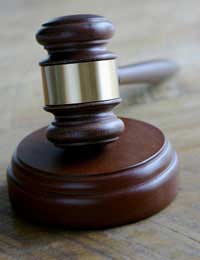 Once you've gone to the effort of taking someone (the defendant) to court and won, this is called 'obtaining judgement' against them. If the business or the person does not voluntarily pay there are several options to consider, which is called 'enforcing your judgment.' This is not something that happens automatically: you must apply to the court. Naturally you will want to choose the option that gives you the best chance of getting your money back.
Firstly, who is the defendant and what are their circumstances? If you don't know much about their financial situation you can apply for a court order to obtain information. Although this is not a demand for payment it should help you to discover more about the defendant's finances.
The most important things to know about the defendant are; whether they are working and if so whether they are employed or self employed; whether they owe other people money or have other county court judgments against them; details of any investments, properties or other assets and whether they have any bank or building society accounts.
Defendant In Employment (Not Self Employed)
If the defendant is employed you can apply for an
attachment of earnings order
, which takes money from the defendant's wages. The order is sent to the defendant's employer, who deducts a certain amount each time the defendant gets paid.
It's important to remember though that the court may not be able to make this type of order if the defendant's cost of living is greater than their salary or wage packet, or may make an enforcement order to pay the debt back very slowly and in small amounts. For example, this could be as little as £5 per month.
Defendant Has Money
If the defendant has money in the bank, you can use a
third party debt order
to stop them from spending it or transferring it out of the account. The defendant will know about the order so it is possible they may decide not to pay any more money into it. You can't however be paid out of an overdraft although if someone else owes the defendant money, the order can be sent to them. It is advisable to seek legal advice on this type of enforcement as it can be complicated.
Defendant Has Stock or Valuable Items
You can use a court bailiff to undertake a
warrant of execution
in which a bailiff will collect the money from the defendant on your behalf by demanding money or seizing goods belonging to the defendant from his home or place of work. If goods are taken, the bailiff will sell them at auction.
However, a bailiff cannot take goods that are subject to HP or other credit agreements, nor will they take 'essential items' or goods that won't cover the cost of the debt.
Defendant Owns Property, Land or Investments
You could obtain a
charging order
that puts a charge against the defendant's house or other property (you get paid on the sale of the property.) This means that you may have to wait a very long time to get your money back, although in some circumstances the court can force the sale. This is a complicated legal procedure and you should seek legal advice on the specific circumstances of your case.
Defendant Owes More Than £750
If the judgment is for more than £750 you can apply for the defendant's
bankruptcy
. Broadly, you have to show first that the defendant is unable to pay the money ordered in the judgment. You do this by issuing a 'statutory demand'.
If the defendant doesn't pay it or apply to have it set aside you can apply to the court using a 'bankruptcy petition' but there is a specific procedure for doing this and certain statements that have to be taken first. Once the person is bankrupt, the court will appoint the official receiver to manage the affairs of the defendant. It is highly advisable to take legal advice on this process before deciding to go ahead with it.
These are not failsafe procedures and the court cannot guarantee that you will receive your money back. Further, once you apply for one of these orders, the court can grant or refuse them at their own discretion. Each of these enforcement options usually incurs a fee (unless you are exempt due to your own financial situation). The most expensive of these procedures is bankruptcy but in all cases the court will add the fee to the debt that the defendant owes.
If the procedure you choose fails to obtain the money from the defendant, the court will not refund your fee.
Wheres My Refund is sponsored by Purely Energy, who have funded a lot of our content. If you are looking for a low cost business energy supplier, take a look at their website.
WHERES MY REFUND IS FOR SALE.
This website is for sale [more info].
You might also like...