Tips for Getting Your Refund
By: Lorna Elliott LLB (hons), Barrister - Updated: 13 Jul 2015
|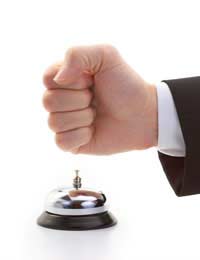 There are certain things you can do in order to give yourself the best chance of getting a refund. Firstly, check whether you are in fact entitled to a refund. There are numerous pages on this website which provide the law and your consumer rights in relation to different types of purchases.
If you are automatically entitled to a refund, for example if your purchase is covered by the distance selling regulations and you are requesting a refund within 7 working days, contact the seller and tell them you are rejecting the goods. If you have an automatic right to rejection you do not have to provide a reason for rejecting the goods. However, this doesn't stop them from asking!
Know Your Rights
You will always be in a stronger position to request a refund if you know your consumer rights. Broadly, if you (as a consumer) buy goods from a seller (as a business) the purchase is governed by the Sale of Goods Act 1979 (as amended.) If the goods are not:
fit for purpose or
as described or
of satisfactory quality
You are entitled to ask for a refund but only within a reasonable amount of time and provided you have not 'accepted' the goods. Inform the seller as soon as you discover a problem and make sure that you keep your receipt or other proof of purchase.
Be Clear And Persistent
Before you ask for a refund, make sure you are clear as to your reasoning. You should state what it is that has made you decide you want a refund and be clear and persistent if you are offered a refund or a replacement instead. Remember, you don't have to accept a credit note, and it is almost impossible to get a refund for a credit note once you have accepted it.
If an item is damaged, and you have only just realised (i.e. you did not cause the damage) then it can help if you take photographs of the damage and where appropriate any packaging as evidence.
Tactics To Get Your Refund
Requesting a refund over the phone to a call centre is often a waste of time and effort, as the person you speak to may not be in a position to rectify the matter. However, if you can, request to speak to a manager or other person in charge.
If a service is of a consistently poor standard, document the problems that you have with it, making sure that you refer to your records when you come to request a refund. Another approach is to explain how disappointed you have been with such an appalling service – and that you have been treated so badly that you will be writing to local and national press as well as the BBC Watchdog program.
If you have bought the goods or service on your credit card, report the problem to your credit card company invoking 'section 75' of the Consumer Credit Act. Bear in mind, however, that it is often easier to rectify the problem with the seller rather than through your credit card company (even though they are jointly liable.)
It is always very effective to ask for a refund in person, with the goods in your hand.If this is not possible, or if you are requesting a refund for an unsatisfactory service, a lot of issues can be resolved with a well-drafted letter. See the section on 'Writing A Letter To Obtain A Refund' for more advice.
You might also like...
@jules - please see the CAB article: 'The goods don't match their description', link
here
which should help you further.
WheresMyRefund
- 15-Jul-15 @ 11:02 AM
Email requesting refund - where do you think I stand..... Re my request and your reply below for sample of your product… On the back of your reply about not sending out samples in confidence I placed an order with you Order Ref: HVSCQDEGS which was delivered on Friday 10th July 2015. Upon opening one of the 9 packs I must say I was very disappointed with the product, it bared very little resemblance to the pictures on your web site. Obviously a small sample of the product, even at a small charge, would have clarified this and I would not have placed the order. Comment from your website: 'We have taken great care in presenting the products on our website as accurately as possible. However, the images you see will depend on your monitor's display and colour capabilities. We are therefore unable to guarantee that the product images you see are an accurate representation of the actual merchandise' I viewed the item on several different computers, lap tops and IPad and the image was the same quality on all deivices. I wish to return the items, including the opened pack which obviously I had to open to look at the product. Although I had read your terms and conditions I feel that a refund for the full order and the delivery charge, total £112.32 would be appropriate. As you can appreciate I will still be out of pocket having to pay postage on the return package.
Jules
- 13-Jul-15 @ 9:06 AM