Writing a Letter to Obtain a Refund
By: Lorna Elliott LLB (hons), Barrister - Updated: 27 Nov 2012
|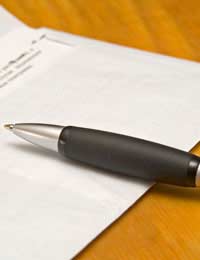 When you write a letter to request a refund always use clear and courteous language. Set out the date, time and circumstances, remembering to quote order numbers where applicable and including a copy of your proof of purchase (keep the original.)
Set out the reasons why you are unhappy with your purchase, and be very clear that in the circumstances only a refund will do. Give a time limit within which you expect to receive the refund. Remember that, if your request is ignored, your letters will become evidence to support your case if you choose to take the matter to court.
Always keep a copy of the letters you send, and if possible, proof of postage. If you send a letter through Royal Mail using their recorded signed for service, it will only cost you the price of either first or second-class postage and the cost of the service, which is quite reasonable.
It may sound obvious, but remember to put your contact details at the top of a letter, along with a daytime contact telephone number and email address. Underneath, put a relevant title, either in bold or underlined, for example: "Purchase of Men's Court Shoes, Size 43 on 18th June" as well as any appropriate order number.
Begin the letter with the appropriate salutation, e.g. Dear Sir or Madam:"I am writing with reference to the above and wish to claim a full refund. I enclose proof of purchase for your information."
Then state the full reasons why you are not satisfied and a period within which you expect to receive your refund. If appropriate, you can also ask for compensation for any actual loss or inconvenience caused by the defect in the service or goods – although be reasonable about this, as you are unlikely to receive a response if you claim an extortionate amount for 'general' inconvenience.
A Sample Letter
This is a letter to a plumber for not having rectified a leak:
I refer to your recent visit to my house in which you replaced a cracked pipe under the bath which had caused a leak. However, within two days the area began to collect water again and the leak is now much worse than before. I tried to contact you on several occasions but each time was told that you were not available. I left messages for you to contact me but I did not hear back from you. I therefore had to go to the expense of hiring an emergency plumber who managed to fix the problem.
Under the Supply of Goods and Services Act 1982 you have a duty of care to carry out your work to a reasonable standard. Clearly this has not been the case and I have suffered loss as a result.
I have enclosed a copy of the paid invoice that details the work the emergency plumber carried out. I expect a full refund from you as the service you carried out fell far below a standard that was satisfactory. In addition I am claiming reimbursement for my further losses for having to pay someone else to fix the problem that you apparently made worse.
I am therefore requesting the following:
Your callout charge and fee on the 3rd December £68.00
The emergency plumber charges 7th December £85.00
My time and inconvenience caused to date £50
Please send me a cheque for £203. If I do not receive this within 14 days please be advised that I will have no option but to lodge proceedings against you in the small claims court and will do so without further notice.
Sample Phrases
Here are some examples relating to issues with goods. You could start with:
"Under the Sale of Goods Act 1979 (as amended), I am entitled to expect the goods you sold to me to be of satisfactory quality, as described and fit for purpose. Clearly on this occasion this has not been the case because…"
The item was not as I expected it to be (as described) and give details
The item was broken or did not work properly (not fit for purpose) and give details
The item was damaged or of substandard quality (not satisfactory) and give details
Then state "You are clearly in breach of contract and I am therefore requesting a full refund." Again, specify how much money you are owed and finish the letter with: "If I do not receive this within 14 days please be advised that I will have no option but to lodge proceedings against you in the small claims court and will do so without further notice."
Hopefully a letter like this will do the trick, but if not, see the section on this website called 'Small Claims, County Court Or Arbitration?'
You might also like...